Compressor ALUP SCK 25, 2,91 m3/min and COMPLETE soda blasting package with sand blasting accessories and Health & Safety equipment. Low pressure sandblaster, usable for dry and wet cleaning, 50 l capacity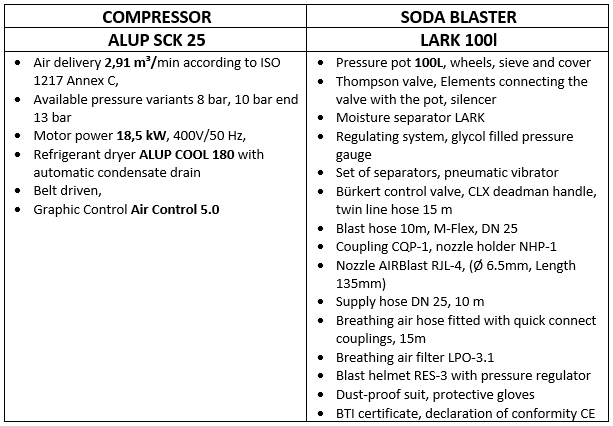 Technical specifications: 
The price includes:
Launching the compressor by an authorized ALUP service,
User training and operational and maintenance manual in the Polish language,
Documentation required for registering the equipment at BTI.
Date of delivery: from our stock or within 3-4 weeks from the date of placing the order
Warranty terms:
24 months with unlimited working hours for rotary screw compressors.
12 months with unlimited working hours for other equipment.
It is possible to prolong the ALUP Protect warranty even up to 5 years. 
SODA BLASTER: COMPLETE package 100 litres
Warranty: 24 months
We recommend high quality soda blasting machines. Thanks to an Indusco Solution soda blasting machine you will quickly and effectively clean almost any surface. And most important without damaging the surface. The sand blasting and soda blasting machines offered by us have been checked in practice by our specialists, thanks to which you may be sure of their reliability and flawless operation.
Usable for low, medium and high pressure cleaning

Accurate dosage of abrasives

Usable for dry and wet cleaning

                When to use soda blasters?
Soda blasters are used for clearing surfaces from contaminants, paint, layers of polish or corrosion with the use of edible soda which is discharged from the nozzle under high pressure. Soda blasting is non-invasive and does not cause any damage to the cleansed surface in the form of scratches or grooves.
              The use of soda blasters
The soda machine is quite universal. It can be used to clean practically any surface. It removes dirt and contaminants from such materials as for example:

brick,

wood,

stone,

aluminium,

steel,

copper,

cast iron.
Soda blasting is an ecological metod which is safe both for humans and the environment. That is why soda blasters prove effective in many situations. The are fit for such activities as: cleaning wooden, brick and plastered buildings, renovating historical buildings, preparing the surface for painting, renovating cars, cleaning cobblestones, removing graffiti, cleaning tombstones,  cleaning monuments.
Due to the fact that using soda is fully safe, soda blasters may be used in the food industry, for example for removing post-production contaminants. Baking soda is is non-flamable, non-toxic and fully biodegradable.
For our Indusco Solution cleaning soda blaster you can use of types of abrasive materials. Thanks to this it can effectively serve as a sand blaster. .
               Advantages of using a soda blaster by Indusco Solution
As a surface cleaning method soda blasting is becoming more and more popular. This happens because using a soda blaster:
- is ecological, safe for the environment and humans, including the person who operates the soda blaster

- is non-invasive – does not damage the cleansed surface, allows to maintain its original structure,

- does not cause heating nor cooling of the treated metal,

- removes fat from the cleansed surface,

- consumes relatively little time, is effective and cheap.




Using the soda machine allows you to clean surfaces in dust-free conditions – wet cleaning, cleaning in a water curtain.
An innovative solution with an attractive price.
Cleaning with the use of Indusco Solution soda blasters is an innovative and universal method, available for an affordable price. We can guarantee a competitive price list, as well as specialized advice. Clients who are interested in purchasing a soda blaster are welcome to contact us to learn the details.

The price includes the compressor and the soda blaster. 
We combine the packages for you individually. You may contact us and agree on the details.
A version with a so-called water nozzle which allows for dust-free operations is available on request.